On Monday Cristiano Ronaldo scored his 145th headed goal, breaking the long-standing record of late German striker Gerd Muller.
Ronaldo achieved the feat when he scored his first goal of the season for Saudi Pro League club Al Nassr with a trademark header in the 74th minute against Tunisian club Monastir in a 2-1 win.
Ronaldo met the cross from the right at the back post and gave the keeper no chance in a match of the Arab Club Champions Cup .
But if you look at Ronaldo's career graph, he wasn't known for his headed goals and leaps when he started off.
In his early days at Sporting CP, he scored with his head just once in his two seasons there. He was then brought to Manchester United by Alex Ferguson where he scored 21 headed goals in his first stint which was from 2003 to 2009. On his return to Manchester United in the 2021/22 season he scored three more times via the header.
However, it was when playing for Real Madrid that Ronaldo honed himself to become the predator in the air with one of his most famous goals scored, ironically against former club Manchester United in the 2012/13 Champions League.
2.93m leap
In 2009, after he moved to the Spanish capital, Ronaldo would work on his fitness and morph into one of the greatest ever headers of the ball. He started slow with just three headed goals in his first season (2009/2010), then added more to his tally with 5 (10/11), 9 (12/13), 5 (13/14), 17 (14/15), 9 (15/16), 8 (16/17) and finally 7 in the 17/18 season, his last for the Los Blancos. By the time he left Spain, Ronaldo had scored 64 goals via headers of his 450 goals with the 14-time Champions League winners.
Advertisement
The most talked about goal in this stint was the 2.93-metre leap — height from the top of his head to the ground — against Manchester United in 2012/13, which is still his highest recorded jump. The best, however, was yet to come.
Wonder goal vs Sampdoria
After his move to the Italian Serie A with Juventus, he would continue his header scoring streak with 9 in his first season in 18/19 but the second season would see him net only 2. He would end his 3rd season with 9 more headed scores in the 2020/21 season but the one goal which would be talked about most in his Turin stint would be the one he scored against Sampdoria in his second season.
Right at the stroke of half time, Ronaldo would leap in the air and remain suspended there for 1.5 seconds before scoring past the keeper with a powerful header. The hang time for that goal was unbelievable. It was also reportedly his second-highest jump with 2.56m and redefined what Ronaldo can do even when he was 36.
Advertisement
Science behind the leap
So what helps Ronaldo pull off these superhuman jumps? In a documentary titled, "Cristiano Ronaldo: Tested to the Limit," the reason was revealed. In 2011, scientists at the University of Chichester conducted a series of biometric tests which revealed that Ronaldo can leap higher than an average NBA player.
Also Read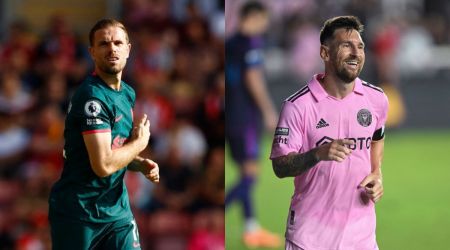 'Can't understand why coming here would damage Henderson's legacy and Mes...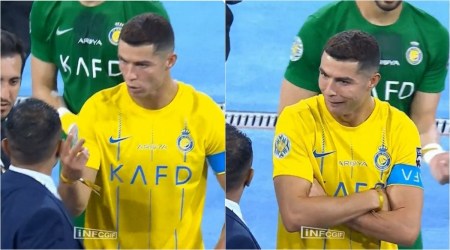 Watch: Cristiano Ronaldo looks bemused after being snubbed for player of ...
Jose Mourinho substitutes Roma player, forces his own team to play with 1...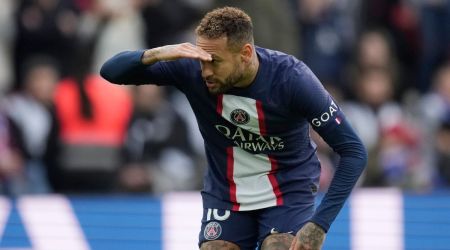 Neymar set for Saudi move after Al Hilal agree near-USD100M transfer fee ...
"While jumping, he can generate 5G of G-force on take-off. He is also helped by a thigh circumference of 62cm, which enables him to reach the heights of 44 cm (feet off the ground) from a standing start and 78 cm with a run-up, which is 7cm more than the average basketballer," the study also quoted by various publications said.